Paul Robeson Centenary (1998)



People around the world celebrated the Paul Robeson Centenary to mark the 100 years since his birth on 9 April 1898

Few artists have given such a large and global audience such sustenance and support as Paul Robeson. Here in the Blue Mountains of Australia he is as well known as in his own land, the United States of America. At a time when we face the most reactionary government for over 2 generations, his own battle against the racism, anti-unionism, and jingoism of the US government is as powerful an example as we could wish for. Browse this site and follow the links around the world to learn more about this remarkable artist.

Paul Robeson in Australia

For the first section I have borrowed heavily from Nancy Wills' booklet "Robeson" that accompanied her play "Deep Bells Ring" that toured in the early 1980's



Paul Robeson visited Australia at the end of 1960 and in a few days he sang to packed concert halls, talked and sang to thousands of industrial workers. Everyone crowded around to shake his hand, shouted their approval of what he said.

Workers building the Opera House invited him to sing during their lunch break. (A concert now remembered in the game Trivial Pursuits, the question: "Who was the first internationally renowned singer to perform at the Sydney Opera House")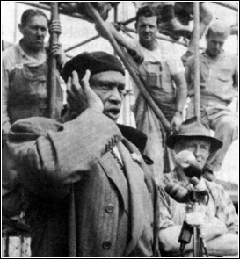 Speaking to journalist, Alec Robertson, of 'Tribune': Robeson said

"Formal concerts don't mean much to me any more. I must go among people, as they work and live. I must give them what there is in my music and words that encourage them in their forward struggles. That's a part of my job, as I see it.."

Alec's article continued: "When he was shown two films -- one showing the misery of tribal Aborigines in a West Australian desert reserve, and the other showing confident and healthy tribal Aborigines running their own mining co-operative at Pindan-- Robeson was beside himself with anger, compassion and determination to arouse more international action to assist the emancipation struggle of those he called the indigenous people of Australia."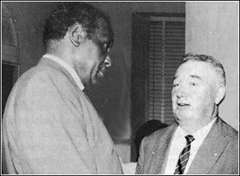 Paul Robeson with Jim Healy, General Secretary of Waterside Workers Federation (1960)





My own memory of Paul Robeson goes back to the early 1950's when my sister and brother and I would endlessly play an old 78 record on a windup gramophone. On one side was John Brown's Body and on the other Joe Hill. So I can say I learnt my first union song at that time. This battered, scratchy record was on the Topic label, later to become the most famous British folk song label.

In 1959, as a teenager, I went on special trip to London to hear Paul Robeson at the Albert Hall, on what was to be his last world concert tour. He began with Joe Hill to an audience that was both hushed and tumultuous. The same year I heard him sing to a massive "Ban the Bomb" rally in Trafalgar Square.
Mark Gregory




Paul Robeson

A song by Sumishta Brahm ©1987

Paul Robeson in the middle of a war
with Love in his heart...

In the middle of a war Paul Robeson
before the Second World War in a small
town in Spain where the bullets flew and fell like rain

In the middle of a war Paul Robeson
with microphone and speakers in the air
sending his beautiful voice everywhere

Paul Robeson in the middle of a war
sing "'Ol Man River" in the middle of a war
and the guns stopped killing
yeah the guns stopped killing

Paul Robeson with a silence all around
singing about injustice
and who is to blame when we are all equal
to God we're all the same
I hope to God ...we're all the same

Paul Robeson in the middle of a war
I think of you when I feel so pulled apart
when all I'm doing is what I believe in my heart

Paul Robeson reminds to be
a human being with individuality
In the middle of a war
if that's how it has to be...

Paul Robeson in the middle of a war
with love in his heart.



Many thanks to Sumishta Brahm for permission to use her song about which she wrote "Here are the lyrics to my song. I hope the track will be included on our (13 Frightened Girls) upcoming CD"

The song refers to a famous incident during the Spanish Civil War when Paul Robeson sang at the front line and the guns on both sides fell silent as soldiers listened to him sing